Island Inspiration: Explore our Hawaiian-Made Collection
Escape to paradise with our curated collection of handmade Hawaiian goods. From traditional crafts to modern designs, we've brought together the best of our island's artisans to bring you unique pieces that are sure to inspire. Whether you're looking for the perfect gift, a piece for your home, or a new addition to your wardrobe, we've got it all. Dive into our island inspiration collection now!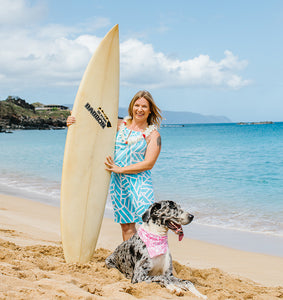 Riding the Waves of Local Craftsmanship
Join me on a journey of island-inspired creativity. Just like the thrill of catching a wave, our handmade Hawaiian products are a reflection of the passion and skill of our local artisans. From the beach to your home, we bring you the best of our island paradise. Mahalo for supporting our small business and local crafts.
discover now
Aloha, Come Find Us!
Discover the closest locations to snag some handmade Hawaiian treasures. From island-inspired clothing to authentic keepsakes, our map will guide you to the nearest brick-and-mortar store carrying our products. Aloha! So, take a look, and don't hesitate to pay us a visit!
Discover our journey on Instagram!
Discover our journey on Instagram and see the inspiration behind our handmade Hawaiian products for kids and parents. From the beautiful beaches of Hawaii to the vibrant culture, follow us on Instagram to see it all. Don't forget to give us a follow to stay updated on our latest products and promotions. Aloha!